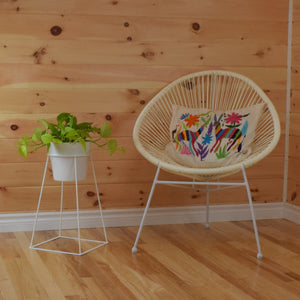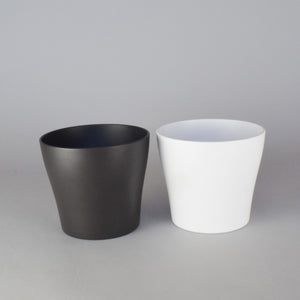 Product image 1
Product image 2

Product image 3

Product image 4
Product image 5

Give your plant a boost with our modern and minimalist Tulameen plant stand. Both sturdy and sleek, the Tulameen metal floor planter is designed to enhance your existing décor, not overwhelm it. 
Description
Inspired by contemporary Scandinavian design, the Tulameen's square metal base allows the planter to sit securely on your floor making it a suitable choice for those with little ones or fur babies. The sophisticated ceramic pot nests inside the Tulameen's ring and perfectly fits an 8" growers pot.

Product Specs 
The Metal Stand
Material – Steel
Finish – Powder coated (Available in Matte Black and Semi-Gloss White)
Height – 18"
Base - 11 ½" x 11 ½"
Ring size – 8"
Handbuilt
The Pot
Material  –  Ceramic (Waterproof + Watertight)
Finish –  Matte White or Matte Black 
Height – 7 ½"
Width –  8"
Weight – 3 lbs
Suggested Plant Pairings
Low/Medium Light: ZZ plant, Peace Lily, Neon Pothos, Philodendron
Bright Light: Monstera, Alocasia or African Mask, Boston Fern, African Spear Plant, Aloe   
FAQs
How do you water your plant?
It's easy. We always keep our plant friends in a grower's or nursery pot (that plastic pot your plant came in when you brought it home from the shop). When it comes time to water our botanical buddies, we just slip the plastic liner out of the pot and head to the sink, bathtub, or outside stoop. We then give the plant a good drink without worrying about overwatering and/or getting the floor/carpet/window sill all wet. Another benefit to having your plant "potted" in a plastic pot is that it will also keep your "real" plant pot nice. Win-win, in our books.
Is the Tulameen suitable for outdoor use? 
Yes. The piece has been professionally powder coated producing a strong, smooth and long-lasting finish. That being said, any item's appearance can expect to be diminished if exposed to the elements.
Will my current pot fit the Tulameen? 
Pots with bases less than 8" and openings greater than 8" will fit the Tulameen.