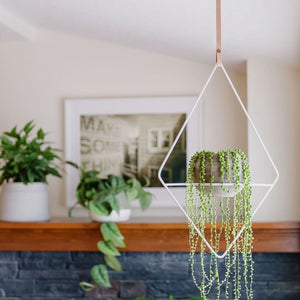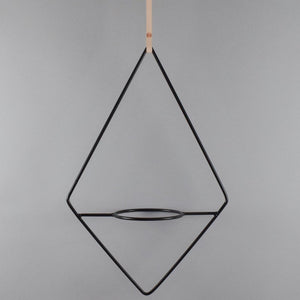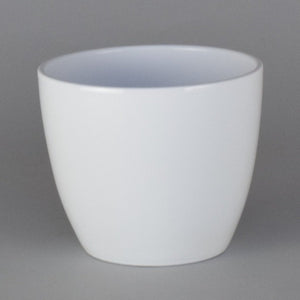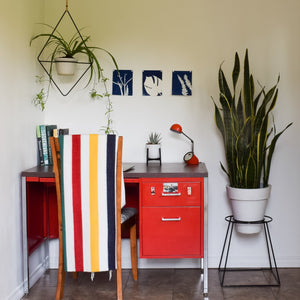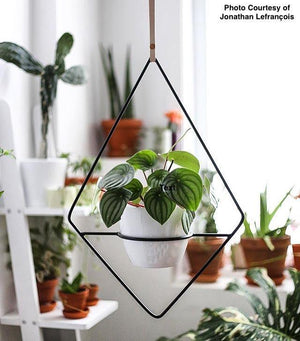 Product image 1

Product image 2
Product image 3
Product image 4
Product image 5
Product image 6

Product image 7

Product image 8
Product image 9
Product image 10
Take your plants to new heights with the Fernie hanging planter. This modern, minimalist indoor plant hanger transforms the smallest of spaces and adds dimension, without adding more clutter.
Description
The Fernie is made of steel and has been powder coated. It comes complete with an adjustable leather strap featuring an elegant copper rivet providing an interesting, yet subtle, material contrast. Hang one Fernie to make a simple style statement or a trio to create a dynamic focal point of the room. The crisp, clean ceramic pot nests inside the Fernie's ring and perfectly fits a 6" grower's pot.
Suggested Plant Pairings 
Low/Medium Light: Pothos, Birds Nest Fern, Staghorn Fern, English Ivy
Bright Light: String of Hearts, Burro's Tail, String of Pearls, Spider Plant
Product Specs
The Metal Hanger
Materials - Steel, Veg Tanned Leather, Copper Rivet
Finish - Powder coated (Available in Matte Black and Semi-Gloss White)
Height - 22"
Width - 15"
Ring size - 6"
Strap Length - 18"+ (adjustable)
Hand Built
The Pot
Material: Ceramic (Waterproof + Watertight) 
Finish: Semi-Gloss White
Height: 5 ½"
Width: 6"
Weight: 2lbs
FAQs 
How do I tie my Fernie?
We leave the straps untied so you can customize the length of the strap. Grab both straps together, create a simple knot, and tug lightly so that it is secure. After you have the strap at your preferred length and your knot is secure, simply hang the straps onto your hook.
How do I hang my Fernie?
We like the VersaHook which can be found at all the big box hardware stores. Installation is quick and simple.
How do you water your plant?
It's easy. We always keep our plant friends in a grower's or nursery pot (that plastic pot your plant came in when you brought it home from the shop). When it comes time to water our botanical buddies, we just slip the plastic liner out of the pot and head to the sink, bathtub, or outside stoop. We then give the plant a good drink without worrying about overwatering and/or getting the floor/carpet/window sill all wet. Another benefit to having your plant "potted" in a plastic pot is that it will also keep your "real" plant pot nice. Win-win, in our books.
Is the Fernie suitable for outdoor use?
Yes. The piece has been professionally powder coated producing a strong, smooth and long-lasting finish. That being said, any item's appearance can expect to be diminished if exposed to the elements.
Will my current pot fit the Fernie?
Pots with bases less than 6" and openings greater than 6" will fit the Fernie.