Naramata + Tapered Ceramic Pot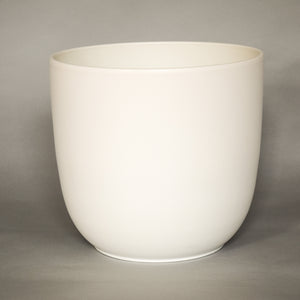 Product image 1

Product image 2
Product image 3

Product image 4
This metal planter is an emblem of modernist simplicity and will never go out of style. Inspired by the mid-century modern classic, the Naramata plant stand is made of sturdy steel and features an optional matte white tapered pot.  

Description
Our metal planter has been powder coated giving it a smooth, long-lasting finish. Unlike the Case Study or other wooden planters, the Naramata is well suited for your outdoor areas. The stylish ceramic pot perfectly fits a 10" grower's pot and is ideally sized for your fiddle leaf fig tree, large statement cactus, or snake plant.  
Product Specs
The Metal Stand 
Material – Round bar steel
Finish – Powder coated (Matte Black, Semi-Gloss White) 
Height of Stand  – 17" (Ceramic pot sits 7 ½" off the floor)
Fits pots up to 11" diameter
Cork Tabs are included to protect floor or level stand
Hand Built 
The Pot 
Material  –  Ceramic (powder coated + baked) 
Finish –  Matte White (waterproof) 
Height – 10 ¼"
Width –  11" (inside width is 10 ½") 
Weight – 9.8 lbs


FAQs
How do I water my plant?
It's easy. We always keep our plant friends in a grower's or nursery pot (that plastic pot your plant came in when you brought it home from the shop). When it comes time to water our botanical buddies, we just slip the plastic liner out of the pot and head to the sink, bathtub, or outside stoop. We then give the plant a good drink without worrying about overwatering and/or getting the floor/carpet/window sill all wet. Another benefit to having your plant "potted" in a plastic pot is that it will also keep your "real" plant pot nice. Win-win, in our books.

Is the Naramata suitable for outdoor use? 
Yes. Your piece has been professionally powder coated producing a strong, smooth and long-lasting finish. That being said, any item's appearance can expect to be diminished if exposed to the elements. 

What size pots does the Naramata fit? 
The Naramata will fit pots up to 11" in diameter.